Family members, close friends, and Friends of Bayfield Library (FOBL) board members gathered at the Bayfield Library on Tuesday, October 17th to honour the memory of Arlene Timmins with the dedication of a Lego table, which was donated to the library by FOBL in her name. The date chosen was just a few days past the first anniversary of Arlene's death and coincided fittingly with the library's celebrations for Ontario Public Library Week.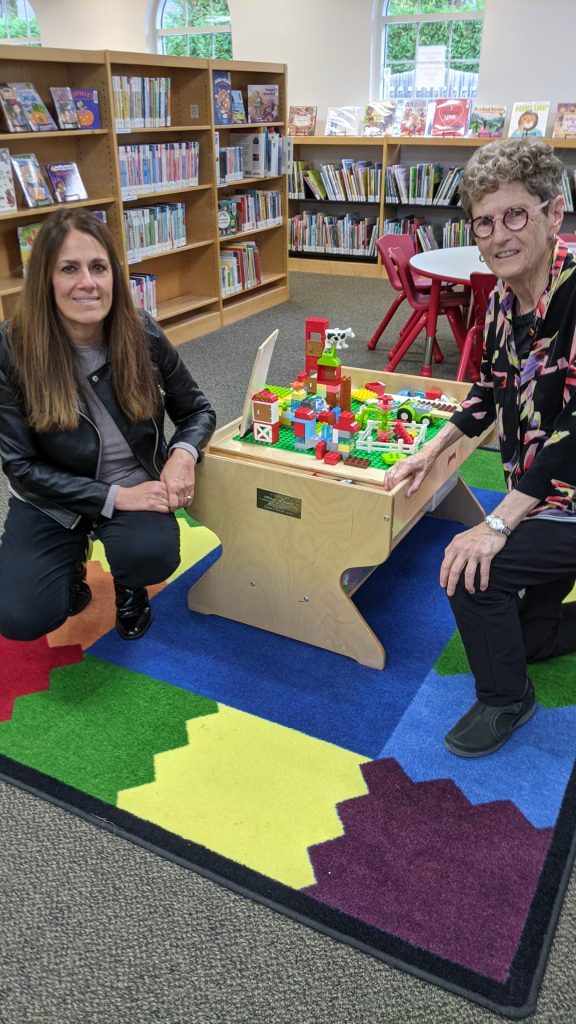 FOBL board member Margot Sippel welcomed everyone and opened the short ceremony by recounting Arlene's many contributions to the Bayfield Library through her involvement with FOBL.
Arlene's close friend, Truus Dragland, also spoke at the ceremony, sharing reminiscences provided by past FOBL presidents Roma Harris and Barbara Brown as well as former fellow board member Gayle Dunn. Arlene was a tireless advocate for the library, having served as a FOBL board member from the time of its formation in 2011 until 2019. She was instrumental in the planning and development of the beautiful new library that Bayfield now enjoys.
The ceremony ended with Margot Sippel and Elaine Swan (Arlene's daughter) affixing the plaque that dedicates the Lego table in Arlene's memory. The plaque reads: "In memory of Arlene Timmins – a champion of the library, children, and our community. Donated by Friends of Bayfield Library."
The Lego table features a fixed play pad on the top and a shelf underneath that holds several bins of colourful Lego pieces.
Those gathered for the dedication ceremony were treated to a wonderful display of Lego building, which showed the freedom of imagination that the table inspires. It is very clear that the Lego table is already a magnet for young children visiting the library!