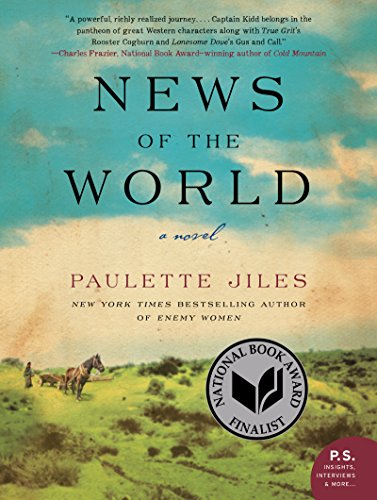 The setting for this book is Texas following the American Civil War. Captain Jefferson Kidd, a survivor of two wars, is an aging itinerant who travels through Northern Texas giving live readings from newspapers to paying audiences hungry for news of the world. While in Wichita Falls, Kidd is offered a $50 gold piece to transport a young orphan girl back to her family in San Antonio. Four years earlier, she was kidnapped by a Kiowa raiding party and raised as one of their own. The story unfolds as Captain Kidd and Johanna make the dangerous 400-mile journey through lawless and unsettled territory. Johanna has forgotten her English language, tries to escape at every opportunity, and refuses to act "civilized". As Johanna gradually learns to trust the Captain, the two form an unlikely bond and work together to overcome the dangers they encounter on the journey. When they finally arrive in San Antonio, the Captain must hand Johanna over to an aunt and uncle who regard her only as a burden. He is faced with a terrible choice.
Paulette Jiles is a gifted storyteller who has created a memorable character in Captain Kidd and whose writing keeps the reader interested with just enough humour. This book has been adapted by Tom Hanks to a film version that was recently released. –JV
"News of the World is available in several formats from the Huron County Library.