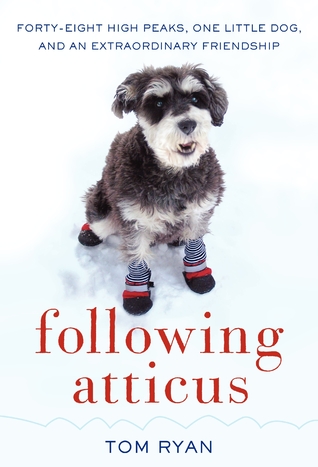 This book is an unforgettable true saga of adventure and steadfast friendship. A remarkable animal opens the eyes and heart of a tough-on-the-exterior newspaperman to the world's beauty and its possibilities.
After the loss of a close friend, Tom Ryan and his miniature schnauzer, Atticus M. Finch, attempt to climb all forty-eight of New Hampshire's four-thousand-foot peaks twice in one winter while raising money for charity. It is an adventure of a lifetime, covering great distances and leading them into enchanting but dangerous winter conditions. At the heart of the amazing journey is the extraordinary relationship they share, one that blurs the line between man and dog. –KH
"Following Atticus" is available in several formats from the Huron County Library.
Tip: if you liked "Following Atticus", plan on reading "Will's Red Coat: The Story of One Old Dog Who Chose to Live Again" by Tom Ryan, which is also available at the Huron County Library.